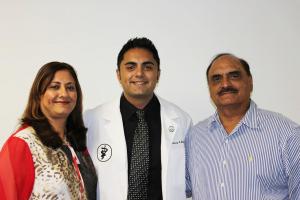 Dr. Harry Sekhon

Owner and Veterinarian
Dr. Harry is excited to welcome you and your family members to Adobe Animal Hospital & Laser Surgery Center!
Born and raised in Northern California, Dr. Harry's parents emigrated from Punjab. They raised Dr. Harry and his sister Lovey with both Punjabi and American principles. Family is very important to Dr. Harry and his parents continue to be a major influence in his life.
Dr. Harry graduated from San Francisco State University with a bachelors in Psychology. He completed his DVM at St. Matthews University in the Cayman Islands with his clinical year rotations at the University of Illinois, Champaign-Urbana.
When he isn't taking care of your pets at Adobe Animal Hospital & Laser Surgery Center or our sister practice Oroville Animal Health Center Dr. Harry's top interests are traveling around the United States and to other countries around the globe, experiencing new cultures, hiking, and photography.